Take CAS to the next level with strategic FP&A advisory tools
CPA.com and Jirav
Financial Planning & Analysis
Webinar
How to Scale & Optimize Your FP&A Practice with a Vertical Niche Strategy
WHITEPAPER
How to launch FP&A services in your accounting firm
WHITEPAPER
6 Steps to Building Your Advisory Practice


Insights to fuel more powerful strategic advisory capabilities
As firms of all sizes strive to anticipate client needs and fuel new growth with Client Advisory Services (CAS) offerings, many are asking one question: What comes next?
CAS clients are asking the same question – which signals real opportunity for growth. Firms that understand their clients' business objectives and desired outcomes, and are able to anticipate and advise on what they need in order to achieve them, are in a great position to become trusted strategic advisors.
Most CAS practices initially focus on more routine transactional work. To thrive going forward, they will need to build on this foundation with tools and processes to deliver next-level anticipatory advisory services, such as KPIs and dashboarding, forecasting, budgeting, data analysis, operating plans, scenario plans and more, as part of the CAS relationship.
It takes technology tools that are purpose-built for accounting firms to deliver this level of strategic advisory capabilities. That's where Jirav's financial planning & analysis software comes in. This all-in-one financial planning and analysis solution gives firms powerful tools for forecasting, budgeting, reporting and dashboarding to provide clients with the insights they need, in the format they need them, when they need them.
Ready to advance on our journey to CAS 2.0 to meet your clients' growing needs for insight and advice, while fueling your next level of growth? Jirav and CPA.com can help make it happen.
Jirav Rewards Program
Join the CPA.com and Jirav Accountants Program and get rewarded!
When you join the partner program you and your firm receive points that help you climb and reach reward tiers, unlocking additional benefits such as:
Dedicated Firm Onboarding —
to support your Jirav launch

Product Training and Certification — to power up your staff with new FP&A skills

Wholesale Pricing — to drive profitable margins

Marketing Collateral and Events — to elevate your brand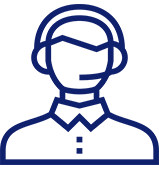 VIP Professional Services Hours — to help guide you on building forecasts

Free Jirav Account* — for your firm or client
Jirav's FP&A solution offers these key features

Visual dashboards
Deliver real-time KPIs and bring data to life with powerful, intuitive dashboards that aid understanding and enable proactive decision-making. Combine accounting, workforce, and operational data in one place to drive greater insights.

Tailored reporting
Customize, standardize, and automatically deliver monthly reporting packages customizable to individual client needs. Combine historical and forecasted reporting to move beyond "what happened?" to "what will happen?" Advanced planning, budgeting and forecasting capabilities
Move client discussions from what happened last quarter to what's next with cash flow forecasting, departmental budgeting, rolling forecasts, workforce planning, scenario comparisons, variance analysis, scenario planning, and more — all powered by driver-based financial modeling.

Data integration
Quickly connect multiple data sources to Jirav to visualize your clients' accounting, workforce and operational data in one place. Import unlimited non-financial metrics by uploading Google Sheets or Excel files. Planning and reporting templates
Leverage best practice templates or build your own templates. Easily copy plans, reports, and dashboards to use again with new clients.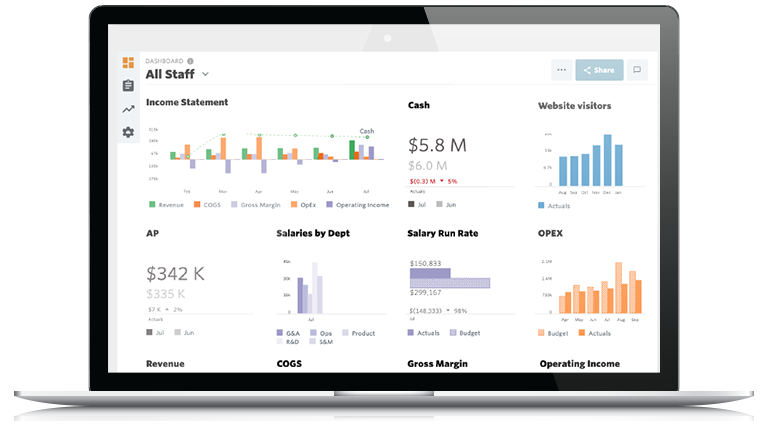 See Jirav in action!
Sign up for a demonstration of Jirav's all‑in‑one forecasting, budgeting, reporting, and analytics solution.
More value for clients, more growth for the firm
What's next: CAS 2.0
When clients successfully collaborate with a CAS firm to transform their finance and accounting strategies, they begin to see new possibilities. What started as a tool to outsource routine, time-consuming, lower-level accounting tasks can quickly turn into a conversation about how to use CAS as a strategy for anticipating the impact of business conditions such as growth or inflation and delivering higher-level, strategic business advisory value. That's part of what we call CAS 2.0 – and it could be the framework for your firm's next wave of growth.
Connect with a CPA.com CAS expert to learn more about how you can implement the CAS 2.0 strategy in your practice, with help from Jirav.
Testimonial
"Jirav excites me because data visualization is the key to working with clients, advising them, and getting them engaged. Just seeing where you've been won't cut it anymore. Jirav is a core element of the next generation of client solutions for Aprio and Aprio Cloud."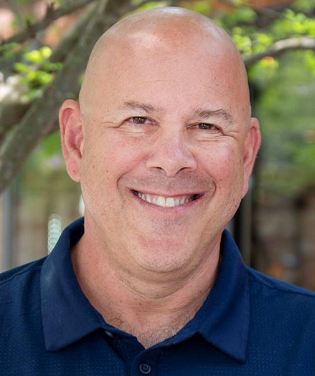 Additional CPA.com resources to keep you more informed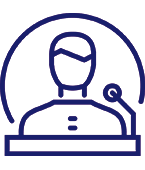 Webinars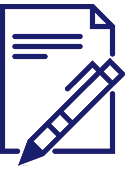 Whitepapers
See and hear how the Jirav Accountants Program is making an impact in today's firms.
Dawn Brolin, CPA and CEO of Powerful Accounting Inc. gives top 3 pieces of advice for starting an FP&A practice.
Adam Hale from Anders CPA shares how Jirav's FP&A tool enabled the firm to productize and scale their advisory services.
Dan Gertrudes, CEO and Founder of GrowthLab shares how his firm is able to provide cost-effective FP&A services to small and medium-sized businesses using a tool like Jirav.
Kenji Kuramoto from Acuity discusses how their CFOs and Controllers are now spending less time building financial models and more time advising and interpreting results with Jirav's ready-made FP&A solution.
Cathy Becker from AccountingDepartment.com discusses how the firm's strategic move to Jirav's platform has helped them scale FP&A services and deliver higher-value advisory.
Chase Insogna of Insogna CPA discusses the ability to provide forecasting, budgeting, and financial modeling as an add-on service through their controller advisory work utilizing Jirav's sophisticated FP&A tools.
To successfully scale their CAS services, Chris Gallo of BerganKDV shares how each of the firm's nine markets went from creating their own style financial spreadsheets to a standardized and replicable format with Jirav's modern FP&A tools.
Chris Gallo of BerganKDV discusses the future of CAS services and FP&A technology to deliver deep industry insights and expertise that clients value most.
The power of smart business
The accounting landscape is changing rapidly. In a word, complexity, defines the single greatest challenge, and opportunity, facing CPAs. Firms are rethinking their strategies for practice management, client services and talent development.
CPA.com is your primary source for taking the complexity out of moving your firm into the digital arena — enabling you to focus on growing your business with the smartest solutions in our industry.
To learn more about Jirav from CPA.com, please contact our team at inquire@hq.cpa.com or by calling 1.855.855.5CPA.
Questions? We're here to help