We're the thought-starters and thought leaders.
CPA.com
Research & Innovation We're leading technology research and innovation efforts for accounting practitioners.
CPA.com is dedicated to leading technology research and innovation efforts for practitioners to help drive the transformation of core practice areas. Our investment in research and innovation is displayed through numerous strategic initiatives including investment into technology disruptors, key C-suite events, futurist engagement and learnings, as well as curation of educational resources. CPA.com has established itself as a thought leader, and thru strategic initiatives, the thought starters of the profession.
Learn More About Our Strategic Initiatives Below

Navigating the Future Program
'Navigating The Future' is an experiential program that brings awareness, provides resources and catalyzes new business models to future-forward the profession.
It's a collaborative initiative between CPA.com and innovation expert, Pascal Finette of radical Ventures. This program is designed to help CPA firms identify the potential change coming to the accounting profession and create strategies to capitalize on new opportunities.
Startup Accelerator
The Association and CPA.com Startup Accelerator helps grow startups throughout the accounting ecosystem so they can help transform the profession. Our aim is to strengthen the ability of individual accountants or finance teams to be the go-to analysts, strategists and consultants that are indispensable to organizations throughout the world.
Learn More
Exponential Times Trigger Innovation In Accounting Technology
In this report, we will highlight key insights and strategies generated at the 2019 AICPA/CPA.com Executive Roundtable. The 10-year anniversary meeting provided a bird's eye view of how the profession is evolving, with an underlying theme of exponential times fueling a wide array of technology discussions. The future of audit, voice-activated artificial intelligence and predictive analytics, for example, were explored in-depth, with attendees discussing their expected adoption rates, development tracks, and disruptive abilities.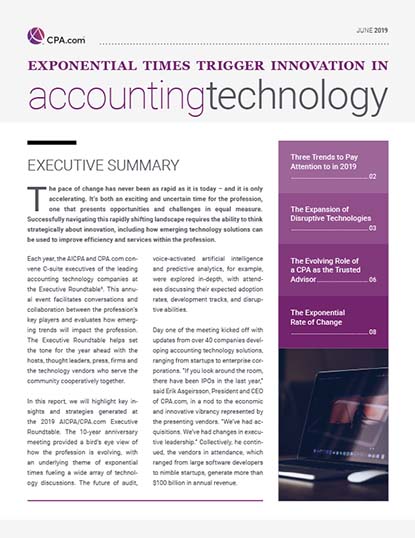 The Rise of Artificial Intelligence
In this report, we will outline what artificial intelligence is, as well as the subcategories of machine learning and deep learning. We'll place the technology in a historical context, and show why, given its decades-long lifespan, we are at somewhat of an inflection point, at least within the profession. Most importantly, we'll delve into a variety of ways firms are already using AI and ML-based products. To conclude, we'll peer into the future to examine not only how AI is transforming the way firms do business, but how accountants can capitalize on these impending shifts to gain a competitive advantage.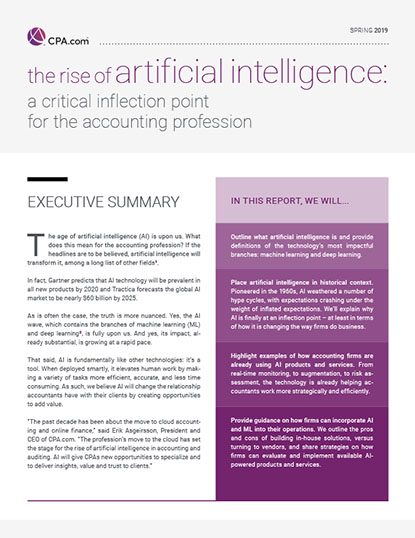 Executive Roundtable
Since 2009 the AICPA and CPA.com have hosted an annual invitation-only convening of C-suite leaders from accounting technology companies. This event allows industry executives and thought leaders to discuss and share ideas, learn from one another and collaborate with the brightest minds in the accounting profession.
Blockchain Symposium
The AICPA and CPA.com, in partnership with the Wall Street Blockchain Alliance (WSBA) convene a diverse field of experts annually to discuss and evaluate the impact of blockchain technology on the accounting profession. The event is invite-only and brings together over 60 leaders in accounting technology to map out how we can collaboratively advance blockchain as a united front.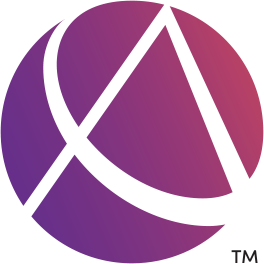 AICPA Watchlist
Today's business world is moving rapidly, transforming accountants' lives but also offering new opportunities. We're looking ahead to help you go beyond. Turn to us for more information on today's topics and check out what we're tracking in future twice-a-year editions of the "Watchlist."
Learn More