We're the thought-starters and thought leaders.
CPA.com
Research & Innovation We're leading technology research and innovation efforts for accounting practitioners.
CPA.com is dedicated to leading technology research and innovation efforts for practitioners to help drive the transformation of core practice areas. Our investment in research and innovation is displayed through numerous strategic initiatives including investment into technology disruptors, key C-suite events, futurist engagement and learnings, as well as curation of educational resources. CPA.com has established itself as a thought leader, and thru strategic initiatives, the thought starters of the profession.
Learn More About Our Strategic Initiatives Below

Navigating the Future Program
'Navigating The Future' is an experiential program that brings awareness, provides resources and catalyzes new business models to future-forward the profession.
It's a collaborative initiative between CPA.com and innovation expert, Pascal Finette of radical Ventures. This program is designed to help CPA firms identify the potential change coming to the accounting profession and create strategies to capitalize on new opportunities.
Startup Accelerator
The Association and CPA.com Startup Accelerator helps grow startups throughout the accounting ecosystem so they can help transform the profession. Our aim is to strengthen the ability of individual accountants or finance teams to be the go-to analysts, strategists and consultants that are indispensable to organizations throughout the world.
Learn More
2020 Blockchain Symposium: The Emerging Technology is Maturing as Real-World Applications Expand
Learn about the latest trends in blockchain technology in this emerging trends report, which summarizes the insights of nearly 90 luminaries in attendance at the 2020 Blockchain Symposium. Read about specific use cases, get an update on current regulatory status, and understand the opportunities and challenges currently present within the profession around blockchain advancements.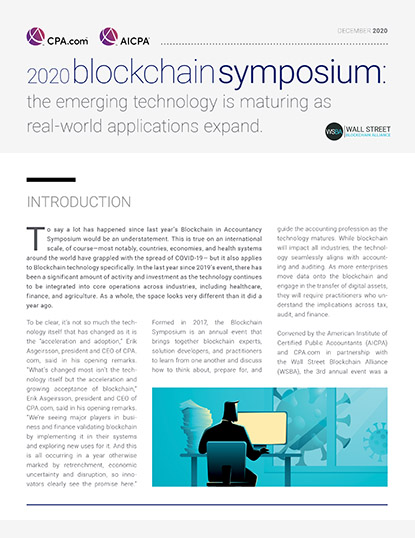 Navigating the Future: Acceleration Frameworks Applied to Accounting and Finance Roles Reveals a Glimpse Into What's Next
This paper focuses on key insights derived from the year-long program Navigating the Future, drawing on research, interviews, interactive exercises and working sessions to imagine what is next for the accounting and finance role. Designed to communicate the scale and pace of technological change, this report reveals new opportunities and business models... for CPA firms. Evaluate what the speed and scale of change currently is versus the human perception of the rate of change. Dive into the impact of technological change on the profession with examples specific to the new remote work environment. Understand how to apply futurist concepts to your firm in an effort to create new business models that support future practitioner skillsets.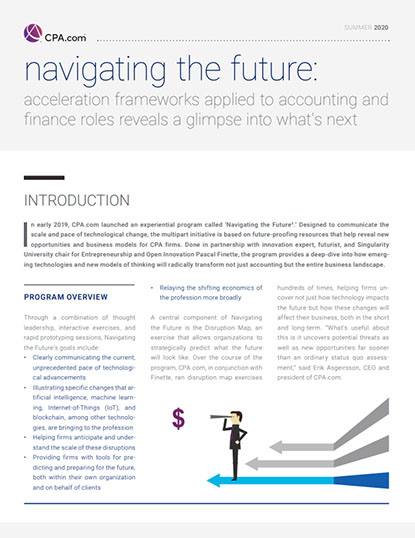 Executive Roundtable
Since 2009 the AICPA and CPA.com have hosted an annual invitation-only convening of C-suite leaders from accounting technology companies. This event allows industry executives and thought leaders to discuss and share ideas, learn from one another and collaborate with the brightest minds in the accounting profession.
Blockchain Symposium
Blockchain technology has exploded into the FinTech ecosystem and various industries over the last few years, evolving well beyond the buzz of Bitcoin. Already incorporated into a range of business and financial applications, its impact and use cases continue to grow as the technology matures. The Top 3 Blockchain Use Cases of 2020 evaluates recent developments in Supply Chain management, Crypto, and what's to come with Health Care.
LinkedIn Live: Real Stories of Firm Innovation in Assurance
Join us for this exciting summer series, Thursdays at 11am EST, where we talk with innovation leaders at various forward-thinking firms about lighting a spark of innovation within their assurance services. Tune in to hear true stories, lessons learned, and high-level thoughts on how to approach winning through innovation.
'Follow' CPA.com on LinkedIn and turn on your notifications to receive alerts when our LinkedIn Live interview is beginning.
Follow CPA.com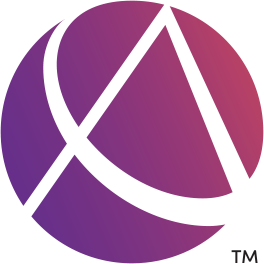 AICPA Watchlist
Today's business world is moving rapidly, transforming accountants' lives but also offering new opportunities. We're looking ahead to help you go beyond. Turn to us for more information on today's topics and check out what we're tracking in future twice-a-year editions of the "Watchlist."
Learn More