We're the thought-starters and thought leaders.
CPA.com
Research & Innovation We're leading technology research and innovation efforts for accounting practitioners.
CPA.com is dedicated to leading technology research and innovation efforts for practitioners to help drive the transformation of core practice areas. Our investment in research and innovation is displayed through numerous strategic initiatives including investment into technology disruptors, key C-suite events, futurist engagement and learnings, as well as curation of educational resources. CPA.com has established itself as a thought leader, and thru strategic initiatives, the thought starters of the profession.
Learn More About Our Strategic Initiatives Below

Navigating the Future Program
'Navigating The Future' is an experiential program that brings awareness, provides resources and catalyzes new business models to future-forward the profession.
It's a collaborative initiative between CPA.com and innovation expert, Pascal Finette of radical Ventures. This program is designed to help CPA firms identify the potential change coming to the accounting profession and create strategies to capitalize on new opportunities.
Startup Accelerator
The Association and CPA.com Startup Accelerator helps grow startups throughout the accounting ecosystem so they can help transform the profession. Our aim is to strengthen the ability of individual accountants or finance teams to be the go-to analysts, strategists and consultants that are indispensable to organizations throughout the world.
Learn More
Future in Focus
New technologies, such as ChatGPT, workforce changes and growing demands for higher value business insights are fundamentally reshaping the profession. Find out how future-focused accounting and finance leaders are embracing transformation to pave the way forward in this special report from DCPA, the leading event centered around technology and innovation within the accounting profession.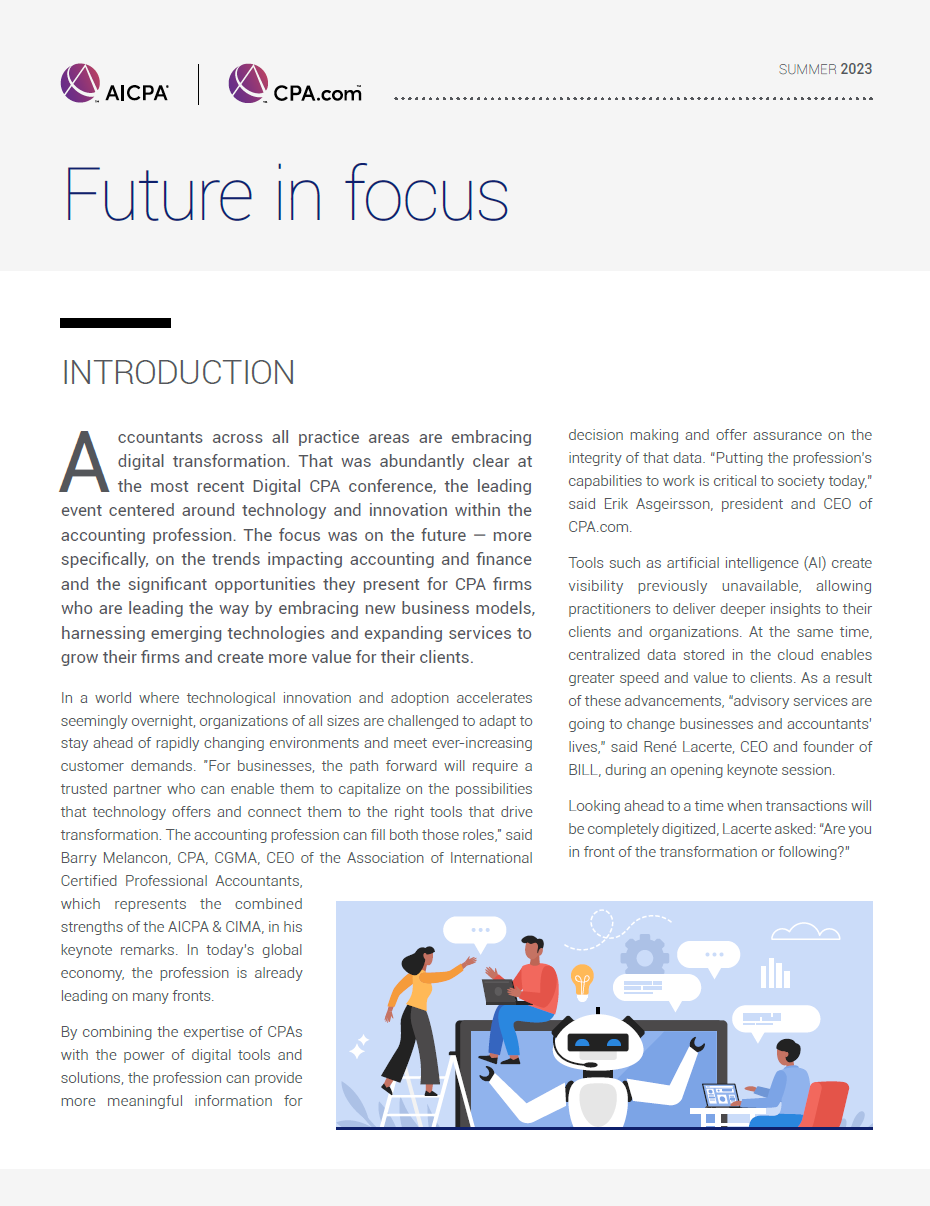 Tech-driven Transformation
Meaningful transformation is underway across all areas of the accounting and finance profession. The evolving technology ecosystem continues to create new opportunities to add value by enabling accountants to access more data, gain deeper insights, and form strategic partnerships with clients to expand the impact of their services.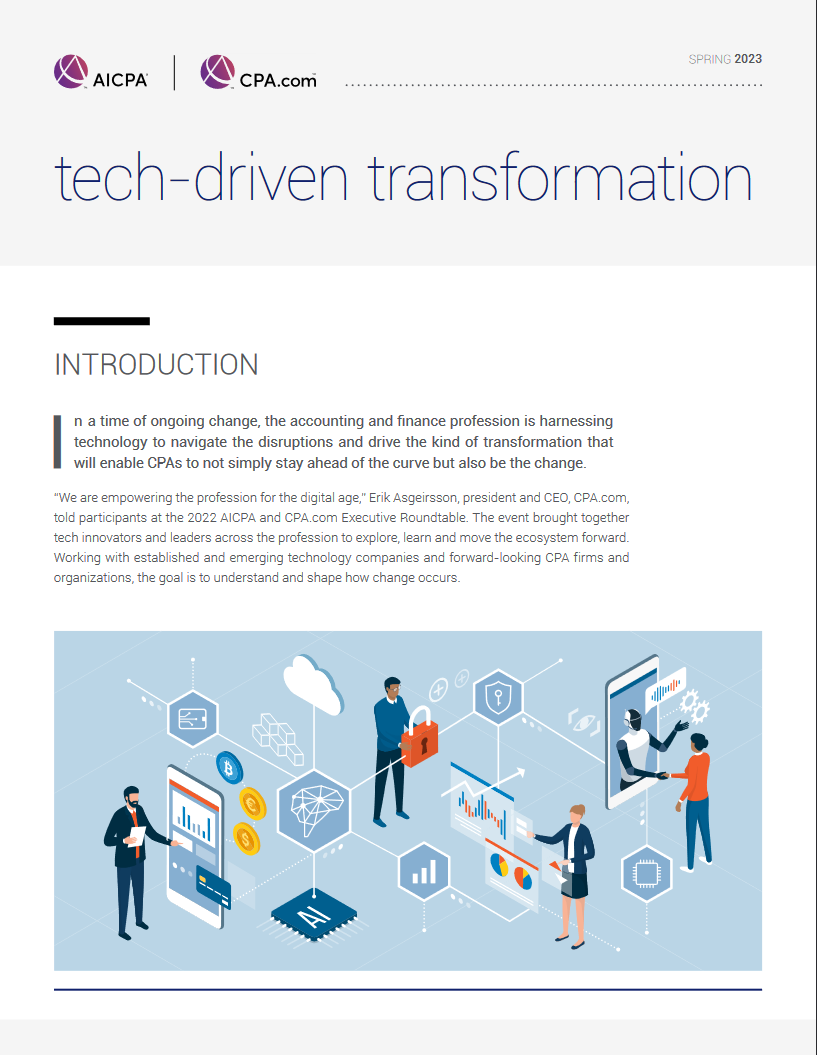 Executive Roundtable
Since 2009 the AICPA and CPA.com have hosted an annual invitation-only convening of C-suite leaders from accounting technology companies. This event allows industry executives and thought leaders to discuss and share ideas, learn from one another and collaborate with the brightest minds in the accounting profession.
Symposiums
The AICPA and CPA hold annual symposiums on emerging technologies and categories like ESG and Blockchain. Firms, subject matter experts, tech companies, regulators and more all convene to create a mind-share on the potential and real impacts for the accounting & finance profession.
The growing focus on ESG is being accelerated in part by proposed regulations and guidelines that call for more information and greater transparency regarding ESG concerns. Interest in this area is reaching a tipping point, and accounting & finance professionals are well suited to provide the information and advice that organizations and stakeholders seek. As part of a trusted profession dedicated to serving the public interest, CPAs and CGMAs have a significant opportunity to build on their foundation of skills, knowledge and expertise to promote transparency and trust in this growing category.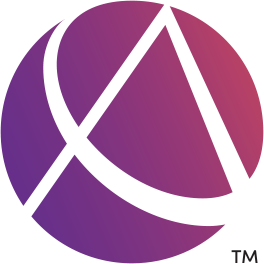 AICPA Watchlist
Today's business world is moving rapidly, transforming accountants' lives but also offering new opportunities. We're looking ahead to help you go beyond. Turn to us for more information on today's topics and check out what we're tracking in future twice-a-year editions of the "Watchlist."
Learn More