OnPoint PCR
A smarter way to do preparation, compilation, and review engagements
CPA.com and CaseWare
OnPoint PCR
OnPoint Product Overview
A modern approach to preparation, compilation and review engagements
Webinar
Transform Your PCR Practice in 30 Days
Auditing In The Future
Few areas are as poised for transformation as the auditing profession. Learn more about the vision for a Dynamic Audit Solution that is being driven by AICPA, CPA.com and participating firms.


Enhancing the efficiency, quality and value of assurance and preparation services
When working on preparation, compilation, and review (PCR) engagements, how much of your time is spent doing repetitive tasks, managing the details around planning the engagement, ensuring you're completing the right checklists or the right procedures within checklists, or tracking communications and following up on requests to clients?
OnPoint PCR combines AICPA methodology and guidance with CaseWare's dynamic cloud platform, to optimize preparation, compilation, and review engagements.
Each engagement begins with a set of basic questions, from which the tool builds out a streamlined set of applicable procedures.
As you work, unnecessary steps and workpapers are filtered out automatically, keeping you focused on only what is applicable.
Letters and reports are dynamically updated as you step through this process.
The end result: An optimized engagement for each client.
The solution centralizes the many components of preparation, compilation and review work through a single platform:
Engagement management
Engagement methodology
AICPA guidance
PBC document management
Trial balance tools
Creation of reports and letters
OnPoint PCR
Leveraging the core competencies of AICPA, CaseWare, and CPA.com, OnPoint PCR offers a single, integrated solution for preparation, compilation and review services.
For information about the latest enhancements to OnPoint PCR, visit the What's New page.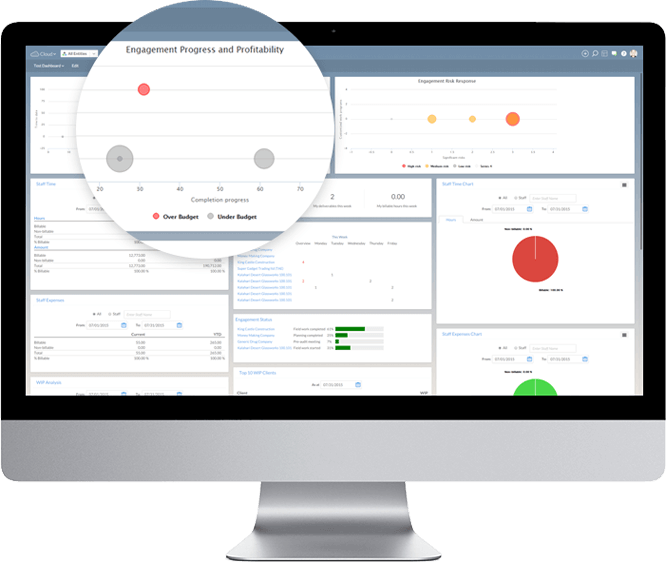 Guided Engagements simplify your workflow
OnPoint PCR's Guided Engagements help you complete engagements from planning to wrap-up in less time and with greater confidence. Guided Engagements have three key components: Intelligent Checklists, Interactive Methodology, and Disclosure Checklist Optimization. Intelligent Checklists
Each engagement starts with a simple set of questions, and then builds checklists based on your responses, automatically scaling in size and complexity as needed. The system is also customizable—you can add procedures or special considerations based on your knowledge of the client and industry, or to incorporate your firm-specific procedures. By combining a bottom-up approach to checklists alongside the ability to add procedures based on your professional judgement, you can eliminate unnecessary steps in your engagements while retaining your distinctive insights that separates you from other firms. Interactive Methodology
AICPA guidance is built into OnPoint PCR, which when paired with Intelligent Checklists, can help reduce the time you spend planning out your engagement. As you complete any checklist, a link to the next step in the engagement is provided to support an efficient engagement workflow. Disclosure Checklist Optimization
Disclosure Checklist Optimization reduces unnecessary steps firms are used to taking when going through the disclosure checklist. Right now, firms are used to completing all items in the disclosure checklist, marking procedures that don't apply to the engagement as "N/A". OnPoint PCR optimizes this process by asking a set of questions at the beginning of the disclosure checklist and incorporates information from the trial balance to present an optimal set of procedures.
Integrated Data means you'll spend less time managing your engagement data Trial Balance Auto-Mapping Technology
Trial balances from popular accounting packages are auto-mapped, and Excel imports have recommended categories, enabling the simple and fast generation of trial balances for your engagements. If any account in your import falls outside one of the categories and / or causes it to be out of balance, OnPoint PCR flags the discrepancy and provides a simple drag and drop interface to reassign those accounts. Automated Financial Statements
Our Automated Financial Statements reduce the amount of time you spend manually copying changes in one part of your engagements to other parts of the same engagement. All data fields in worksheets are linked, such that a change in one worksheet is automatically propagated throughout the entire engagement, dramatically reducing transcription errors. Data Visualization
A graphical display of your client's balances and financial statement information is built into appropriate lead sheets. Visual Analytics grant easy access to basic visuals that can lead to insights that aren't often apparent when looking at numbers only.
Our Cloud Platform moves your engagements to the next level
OnPoint PCR is a cloud-native application, which means that you can access your engagements and collaborate in real-time with your clients and colleagues, all from within the system. With data security on par with that used by online banks, you can rest assured knowing that best-in class data security measures are in place. CaseWare Cloud is a robust platform with extensive capabilities to help your firm's assurance services. For more information regarding the platform, view FAQs on CaseWare Cloud. Real-Time Collaboration
You can send, receive, and track all client and internal communications securely within the application, eliminating the need to use third-party software or email. Multiple users can access the same engagement concurrently, and when coupled with built-in chat, you can collaborate effortlessly to troubleshoot questions. Security
Rest assured knowing that your client data is stored on a strong, safe cloud-based platform. Hosted on state-of-the-art Amazon Web Servers, your data will be physically protected, backed up daily, and will live on a platform that is regularly monitored and tested against potential breaches. What's more, your information is 100% encrypted with the same level of security used by online banks. CaseWare has taken significant steps to ensure that CaseWare Cloud is a secure, trusted environment – for more information regarding how, visit caseware.com/solutions/cloud/security. Convenience
If you have internet access, you can connect to OnPoint PCR anytime, anywhere. Like other online software tools, multiple people in your firm can access the same engagement at the same time, and your work progress is also saved in real time, eliminating the hassle of file check-ins and check-outs.
The power of smart business
The business landscape is changing rapidly. Complexity defines the single greatest challenge — and opportunity — facing CPAs. Firms are rethinking their strategies for practice management, client services and talent development.
CPA.com is your primary source for taking the complexity out of moving your firm into the digital arena — enabling you to focus on growing your business with the smartest solutions in our industry.
To learn more about OnPoint PCR, please contact our team at OnPointSales@hq.cpa.com or by calling 1.855.855.5CPA.