Navigating the Future: Acceleration Frameworks Applied to Accounting and Finance Roles Reveals a Glimpse Into What's Next
This paper focuses on key insights derived from the year-long program Navigating the Future, drawing on research, interviews, interactive exercises and working sessions to imagine what is next for the accounting and finance role. Designed to communicate the scale and pace of technological change, this report reveals new opportunities and business models for CPA firms. Evaluate what the speed and scale of change currently is versus the human perception of the rate of change. Dive into... the impact of technological change on the profession with examples specific to the new remote work environment. Understand how to apply futurist concepts to your firm in an effort to create new business models that support future practitioner skillsets.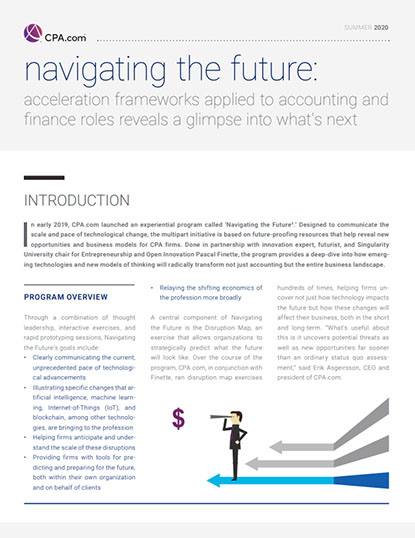 2019 Blockchain Symposium: Experts' Insights Indicate Growing Use Cases and Value for the Technology
Over the past few years, blockchain technology has exploded into the FinTech ecosystem, as well as various industries, evolving well beyond cryptocurrencies like Bitcoin. Already incorporated in a range of business and financial applications, its impact and use cases continue to improve as the technology matures. With this in mind, the American Institute of Certified Public Accountants (AICPA) and CPA.com, hosted in partnership with the Wall Street Blockchain Alliance, the 2nd Annual Blockchain... in Accountancy Symposium. Held in September at the AICPA's New York City headquarters, the event convened some of the profession's brightest minds, blockchain experts, solution developers, and practitioners across service line specialties to strategize on how the community as a whole should think about, plan for, and respond to the blockchain wave. In this report, we will dive into specific use cases, insights from the Symposium participants, current regulatory status, provide updates from the AICPA working groups, and evaluate opportunities as well as challenges currently present within the profession around blockchain advancements.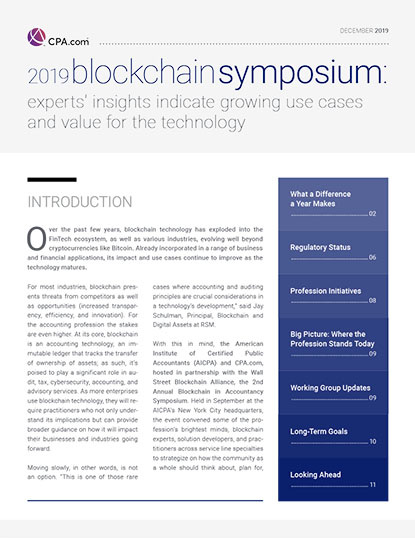 Exponential Times Trigger Innovation In Accounting Technology
In this report, we will highlight key insights and strategies generated at the 2019 AICPA/CPA.com Executive Roundtable. The 10-year anniversary meeting provided a bird's eye view of how the profession is evolving, with an underlying theme of exponential times fueling a wide array of technology discussions. The future of audit, voice-activated artificial intelligence and predictive analytics, for example, were explored in-depth, with attendees discussing their expected adoption rates, development tracks, and disruptive abilities.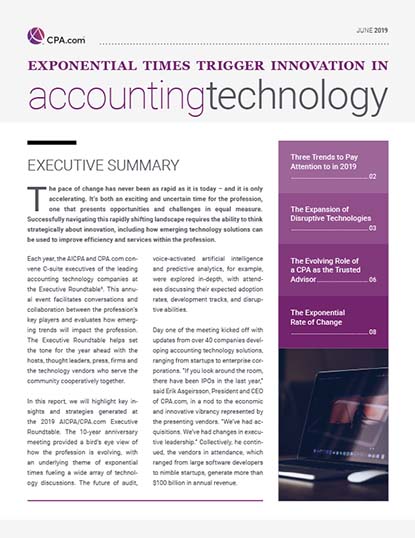 The Rise of Artificial Intelligence
In this report, we will outline what artificial intelligence is, as well as the subcategories of machine learning and deep learning. We'll place the technology in a historical context, and show why, given its decades-long lifespan, we are at somewhat of an inflection point, at least within the profession. Most importantly, we'll delve into a variety of ways firms are already using AI and ML-based products. To conclude, we'll peer into the future to examine not only how AI is transforming the way firms do business, but how accountants can capitalize on... these impending shifts to gain a competitive advantage.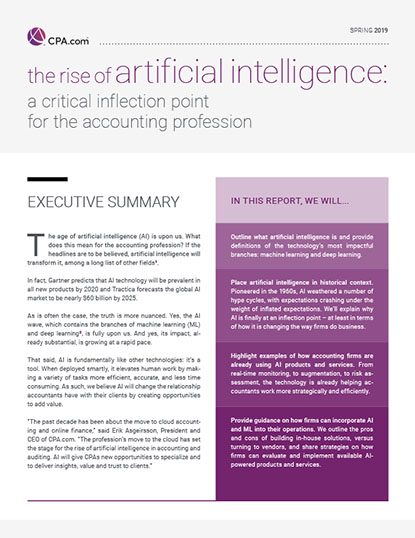 Blockchain Symposium
This past May, the AICPA and CPA.com in partnership with the Wall Street Blockchain Alliance, held the first Blockchain in Accounting Symposium. The event was a one-day brainstorming session that brought together more than 60 leaders in accounting to map out how the accounting profession can advance blockchain as a united front. This emerging technology trends report provides insights and key initiatives... discussed at the Symposium as well as provides further blockchain definitions, practical application in accounting, and identifies where blockchain is at on the hype cycle.
Executive Roundtable Summary
The Executive Roundtable brings together the best, brightest, and most experienced minds serving the accounting profession to cooperate, compete, and exchange ideas on how to best serve accountants and their clients. It is the exclusive convening of C-Level executives from technology companies servicing the accounting profession. This report is a synopsis of trends identified at the 2018 meeting.