The Great Accelerant: Thriving in the New 2025
The events of the past year and a half ushered in a new reality for the accounting profession. Along with speeding up the adoption of new technology, the pandemic accelerated the evolution of practitioners from transactional to relational. As a result, the profession is now in a place many experts predicted wouldn't be reached for another half decade. In this special report..., we examine the major implications of the pandemic on business, technology, and professional service firms.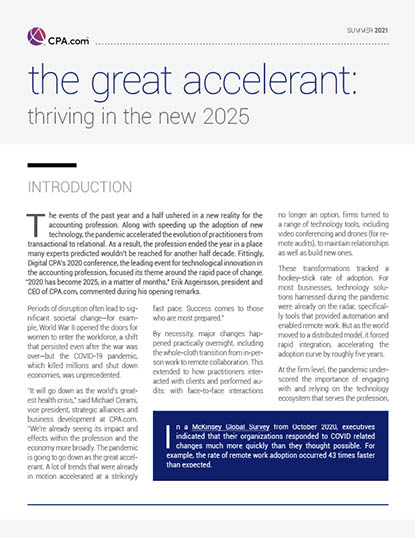 2020 Blockchain Symposium: The Emerging Technology is Maturing as Real-World Applications Expand
Learn about the latest trends in blockchain technology in this emerging trends report, which summarizes the insights of nearly 90 luminaries in attendance at the 2020 Blockchain Symposium. Read about specific use cases, get an update on current regulatory status, and understand the opportunities and challenges currently present within the profession around blockchain advancements.