Elevate audit productivity. Enrich the client experience.

Webinar
Elevate audit productivity and enrich the client experience
Whitepaper
The Path to Audit Transformation: Cloud, Connect, Create
Product overview
Streamline audit workflow




Evolve to a cloud-driven audit process.
Is your firm relying on disparate systems that require manual processing and significant effort and redundancy in arriving at the appropriate workpapers and procedures for a given audit? Do your current tools lack the transparency needed for both internal and client engagement collaboration? Challenges like these often prevent firms from achieving a higher level of productivity and client experience.
OnPoint Audit enables firms of all sizes to step into a comprehensive cloud-based approach to auditing, significantly reducing manual effort and challenges associated with that extra work. Whether you are part of a larger firm that requires multiple auditors to work together within the same workpaper or a smaller firm concerned with losing data stored on a laptop or having to install updates, OnPoint Audit changes the game.
Gain visibility to real-time updates while collaborating within the same workpaper, financial statement or document and avoid data loss and the need to install ongoing updates. Bring dramatic improvement to engagement momentum and transparency by integrating PBC requests directly into your audit methodology.
How it works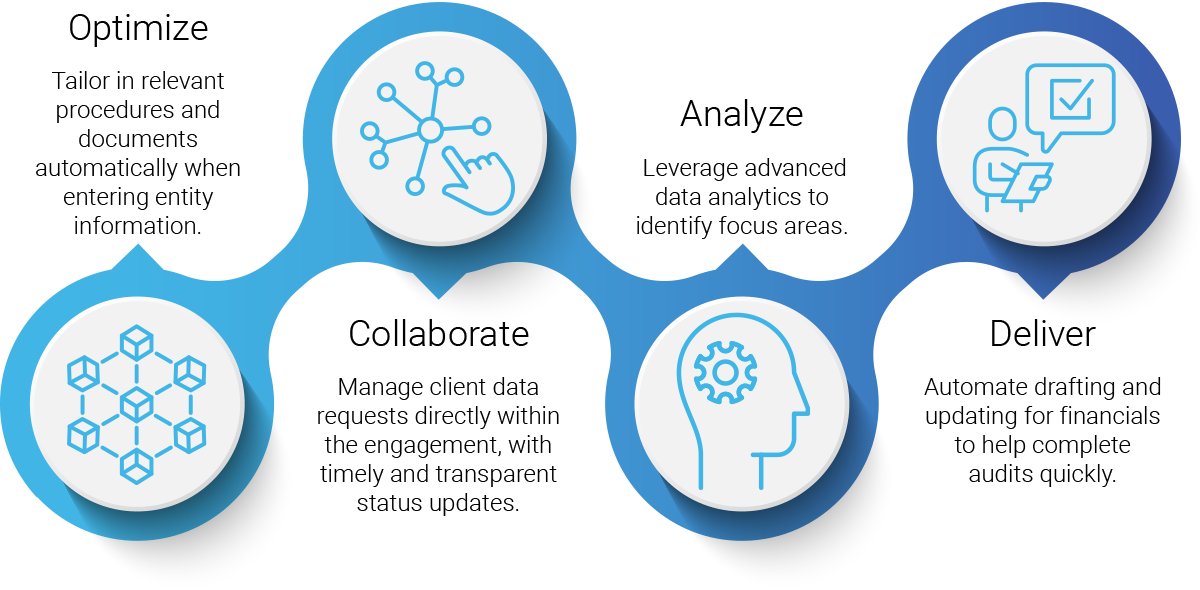 ---
Key benefits
Built to streamline audit workflow to help you effectively right-size your audit engagements, OnPoint Audit offers several benefits to firms, including:

A 100% Cloud Platform that is both Secure and Accessible:
Easy to scale for auditors working remotely or from home offices, OnPoint Audit leverages a fully encrypted login from your web browser, and includes the foundational tools for your audit practice: Data importing with analysis tools, engagement methodology, PBC document management, trial balance tools, and letter and report drafting and editing.

Improved Realization Through a Logic-Based Engagement Build:
Start by filling out a simple client acceptance document, then watch as documents and procedures are tailored into the engagement as you provide entity details, helping you focus your efforts only on what matters most.

Timely, Transparent Collaboration to Keep Momentum Moving Forward:
Send client requests for information right from within your engagement file, as OnPoint Audit's holistic approach not only saves you time by keeping you from having to use outside, disparate tools for client management, but it puts everyone on the same page regarding status of requests and overall audit progress.

Visibility and Connectivity to Instill Confidence in Audit Quality:
Capture and store risk and control data in a central location while also easily seeing the linked relationships between risks, controls, and procedures, all of which helps provide peace of mind that your audit is on track and of high quality.

Tailored, Risk-based Analysis to Help Identify Focus Areas:
Bring in entire transaction sets from popular accounting systems like QuickBooks and Xero, then reconcile trial balance data to ensure data accuracy through tools available in the platform. With accurate data captured, run a holistic data analysis to help identify trends. Sharpen the focus of your audit, leading to higher quality work.

Join us for this opportunity to influence and shape the direction of OnPoint Audit.
Space is limited. Firms that submit the form will receive further communications outlining the details.
Sign up to be informed of updates about OnPoint Audit
How is OnPoint Audit related to the AICPA's Dynamic Audit Solution (DAS) initiative?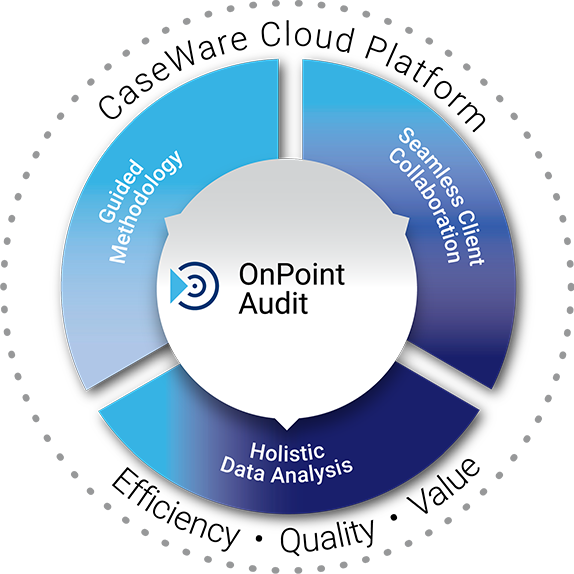 OnPoint Audit aims to evolve the audit through enhanced client service delivery and optimizing workflow on a cloud-based platform. OnPoint Audit streamlines certain steps of existing audit methodology, whereas DAS offers a new, reimagined methodology. OnPoint Audit fills an important need, as across the whole of the accounting profession, there are firms seeking to improve efficiency, quality and value in their audit and assurance services through cloud technology yet who will not desire to make the foundational methodology changes that DAS requires as part of a fully transformative approach.
The development of DAS, a critical milestone for the profession, remains on track with an initial commercial launch expected in 2023.

Building a future ready firm
The accounting landscape is changing rapidly and one word—complexity—defines both the greatest challenge and opportunity for CPAs. To keep pace with client expectations, firms are rethinking their strategies for practice management, client services and talent development.
CPA.com is your primary source for taking the complexity out of moving your firm into the digital arena – enabling you to focus on growing your business with the smartest solutions in our profession.
To learn more about CPA.com, please contact our team at inquire@hq.cpa.com or by calling 1.855.855.5CPA.
Questions? We're here to help