Elevate audit productivity. Enrich the client experience.





Evolve to a cloud-driven audit process.
OnPoint Audit provides an efficient guided workflow that reduces redundancies, and supports real-time collaboration among team members and clients. Customers of CaseWare Cloud and OnPoint A&A Suite are invited for an exclusive opportunity to participate in the beta release of OnPoint Audit. Participation in the beta group enables you to complete your audits in the cloud and provides you with opportunities to work directly with the product development team and contribute input as OnPoint Audit is refined.
Join us for this opportunity to influence and shape the direction of OnPoint Audit.
Space is limited. Firms that submit the form will receive further communications outlining the details.
How is OnPoint Audit related to the AICPA's Dynamic Audit Solution (DAS) initiative?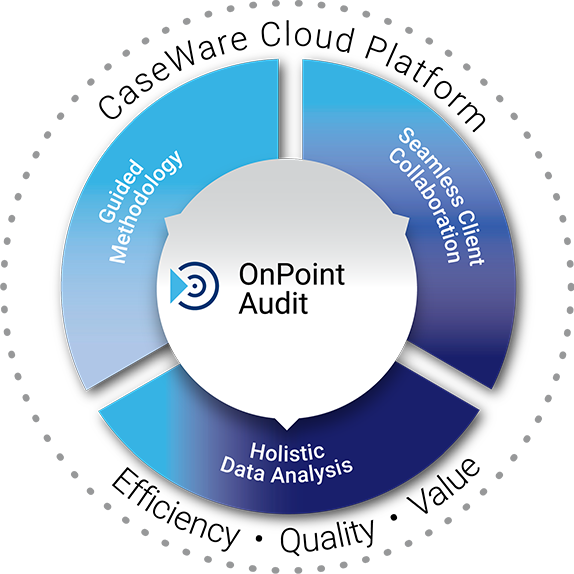 OnPoint Audit aims to evolve the audit through enhanced client service delivery and optimizing workflow on a cloud-based platform. OnPoint Audit streamlines certain steps of existing audit methodology, whereas DAS offers a new, reimagined methodology. OnPoint Audit fills an important need, as across the whole of the accounting profession, there are firms seeking to improve efficiency, quality and value in their audit and assurance services through cloud technology yet who will not desire to make the foundational methodology changes that DAS requires as part of a fully transformative approach.
The development of DAS, a critical milestone for the profession, remains on track with an initial commercial launch expected for later in 2021.
Sign up to be informed of updates about OnPoint Audit

Building a future ready firm
The accounting landscape is changing rapidly and one word—complexity—defines both the greatest challenge and opportunity for CPAs. To keep pace with client expectations, firms are rethinking their strategies for practice management, client services and talent development.
CPA.com is your primary source for taking the complexity out of moving your firm into the digital arena – enabling you to focus on growing your business with the smartest solutions in our profession.
To learn more about CPA.com, please contact our team at inquire@hq.cpa.com or by calling 1.855.855.5CPA.
Questions? We're here to help