Wondering when or if your clients will start asking about virtual currency reporting? With this issue finally making its way to mainstream financial media, get ready to start fielding questions about this increasingly visible, important issue.
In a recent segment on CNBC's Squawk Box, co-anchor Andrew Ross Sorkin said, "If you've owned or used Bitcoin, you may owe taxes no matter how you acquired or used it." That will surely get the attention of clients with crypto assets – along with these other highlights noted in the CNBC report: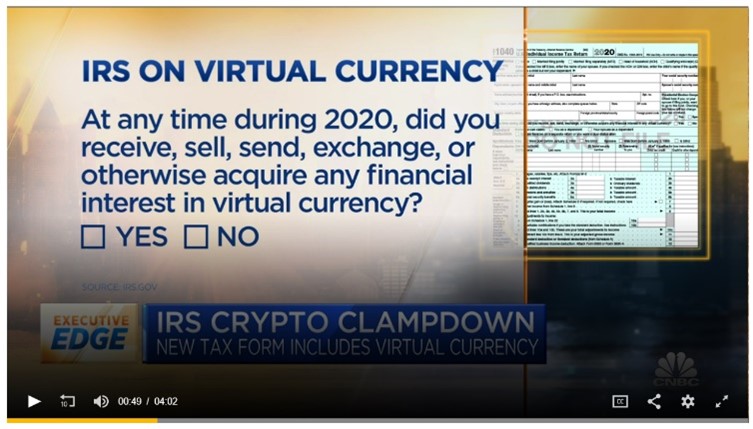 "You need to check 'Yes' if you were involved in any transaction with virtual currency." (These types of transactions include sales, receipts or transfers, and exchanges of goods.)
"Like stocks, any gain or loss from the sale or exchange of a crypto asset is taxed as a capital gain or loss."
"Working with a tax professional is key here [...] having a CPA or tax professional who has experience with crypto assets is very important, so ask that question as you pick a professional to work with."
The CNBC reporters also strongly emphasized the pivotal role accounting firms should play in helping clients navigate new IRS guidance on virtual currency reporting to ensure compliance.
Are you confident that your firm will be ready to respond as this issue continues to gain visibility among your clients? The AICPA and CPA.com have assembled a wealth of educational content and resources specific to virtual currency reporting that can inform your planning for the 2020 tax season. Leverage these practical tools to ensure your staff understands crypto asset transactions and their reporting implications:
AICPA Learning Resources:
CPA.com Resources:
LukkaTax for Professionals – Tax preparation software designed specifically for the accounting profession
Lukka Library - Access year-round content on the virtual currency ecosystem written by industry experts
For other valuable resources on this issue, visit www.cpa.com/crypto. Meanwhile, the AICPA continues to advocate for additional guidance from Treasury and the IRS. We've also included information on crypto asset reporting solutions that can help you this upcoming tax season.