Bring insights and strategy to your practice
CPA.com Practice Development
Workshops

The accounting landscape is changing rapidly and one word—complexity—defines both the greatest challenge and opportunity for CPAs. CPA.com and AICPA collaborated with nationally recognized leaders to design and instruct learning modules on these topics.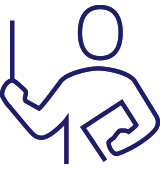 Client Advisory Services (CAS) Roadmap Workshop
Build your BPO business model at our Client Advisory Services (CAS) Roadmap Workshop

Compliance & Advisory: Roadmap to Your Sales and Use Tax Practice Model
Build a business model that helps clients navigate the changing landscape of sales and use tax.

CAS Client Assessment Workshop
Your CAS clients are demanding more value. Create a CAS client assessment process to capitalize on this opportunity.

CAS Financial Planning & Analysis Workshop
Discover the critical CAS components required to extend your service offering to the virtual CFO level by advising clients and creating various types of forecasting models based on the current client need.
Today's more competitive business environment calls for a more competitive CAS offering.
Discover CAS 2.0
Register for a Virtual Workshop in 2021
Our virtual workshops put facilitators and learners in a shared online space that allows learners to earn CPE credits in two or four online sessions.
Client Advisory Services (CAS) Roadmap Workshop
More 2022 Workshop Dates Coming Soon!
CAS Client Assessment Workshop
---
CAS Financial Planning & Analysis Workshop
December 13 – December 14
---
"If you are serious about starting a CAS practice, it can't be a copy and paste of an existing department in your firm. The CAS landscape is very different than the traditional CPA firm offerings and needs to be approached as such and this workshop does a great job of highlighting those areas."
Workshops in the Virtual Classroom
All of our high-engagement workshops take place in the CPA.com Virtual Classroom with a limited number of participants. They feature:
2 or 4 sessions of three to five hours each
On-camera interactive experience with knowledgeable facilitators
Reflective learning activities to support synthesis of new ideas
New small group activities designed for virtual breakout groups​
Content tailored to the group, based on the pre-workshop survey