Inform Your CAS Practice Strategy with Insights from the
CAS Benchmark Survey
2022 CAS Benchmark Survey
Want to participate in the 2024 survey? Sign up to be notified when it opens
CPA.com, AICPA PCPS
CAS Benchmark Survey


What is the CAS Benchmark Survey?
Client Advisory Services (CAS) are the fastest growing in the profession, and many firms are looking for the best ways to measure their practices. CPA.com and AICPA PCPS have partnered to gather the benchmarks for CAS and develop CAS KPIs and best practices based on data from firms across the country.
The CAS Benchmark Survey provides an opportunity for you to work on your business – first, by reviewing the data about your practice in preparation to take the survey, and later, when you can review your practice's data compared to other CAS practices and CAS top performers.

WEBINAR
Watch the webinar, 'CAS Remains Strong: Results of the 2022 CAS Benchmark Survey' on-demand now
Tune in to hear the findings from the 2022 CAS Benchmark Survey and examine what distinguishes top performing CAS practices.

PRESS RELEASE
AICPA and CPA.com Survey: Client Advisory Services (CAS) Practices See 16% Growth
Double-digit growth trend of CAS continues
Nearly three out of four firms believe their pipelines indicate a strong opportunity for growth
Net client fees per professional (NCFPP) among Top Performers increased 25%
Why participate in the survey?

Gather data to build a business case and gain buy-in for changes to drive practice growth

Identify the KPI's that truly define a successful CAS practice

Learn how your CAS practice compares to others in the profession

Gather benchmarking data to compare your practice to organizations of varying size and make-up
Receive access to personalized, detailed reporting in the survey platform
The results for participating firms will be available in a spreadsheet with benchmarks broken out by CAS Net Client Fees, CAS Practice Type, and by Top Performers, providing perspective on key performance indicators of CAS practices across the nation.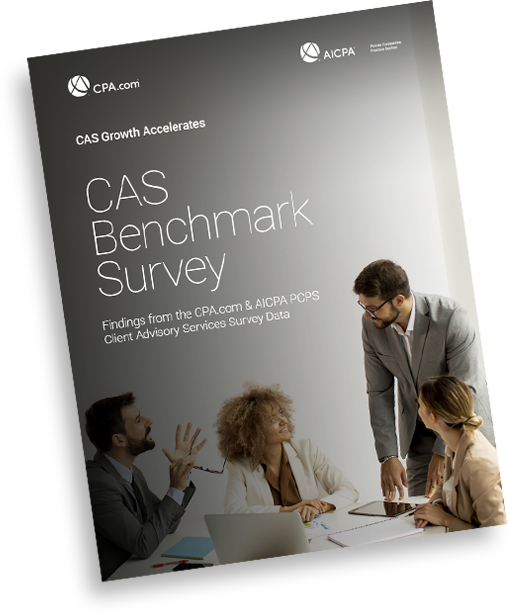 Previous Survey Reports Available Here:
2020 CAS Benchmark Survey Full Report
2018 CAS Benchmark Survey Full Report
Thank you for your interest in the CAS Benchmark Survey.

Building a future ready firm
The accounting landscape is changing rapidly and one word—complexity—defines both the greatest challenge and opportunity for CPAs. To keep pace with client expectations, firms are rethinking their strategies for practice management, client services and talent development.
CPA.com is your primary source for taking the complexity out of moving your firm into the digital arena – enabling you to focus on growing your business with the smartest solutions in our profession.
To learn more about CPA.com, please contact our team at inquire@hq.cpa.com or by calling 1.855.855.5CPA.
Questions? We're here to help