Inform Your CAS Practice Strategy with Insights from the
CAS Benchmark Survey
CPA.com, AICPA, PCPS
CAS Benchmark Survey


High-growth. Profitable. In-demand despite economic uncertainty. Making a difference for clients.
These are all descriptions of an ideal service offering - and they are the findings from the 2020 CAS Benchmark Survey.
What is the CAS Benchmark Survey?
Client Advisory Services (CAS) are the fastest growing in the profession, and many firms are looking for the best ways to measure their practices. In 2018, CPA.com and AICPA PCPS partnered to create an inaugural survey to gather the benchmarks and develop the KPIs of CAS practices across the country.
The 2020 survey data will be available soon, and includes a new section focusing on the 2020 response to the global pandemic. This new executive summary also includes growth comparisons between the 2018 and 2020 data.
The next survey will open in 2022.

CPA.com 2020 CAS Benchmark Survey Overview
This webinar takes a deeper dive into the impact of the inaugural survey and the importance of participating in 2020.
Why participate in the survey?

Gather data to build a business case and gain buy-in for changes to drive practice growth

Identify the KPI's that truly define a successful CAS practice

Learn how your CAS practice compares to others in the profession

Gather benchmarking data to compare your practice to organizations of varying size and make-up
Receive access to personalized, detailed reporting in the survey platform
The results for participating firms will be available in a spreadsheet with benchmarks broken out by CAS Net Client Fees, CAS Practice Type, and by Top Performers, providing perspective on key performance indicators of CAS practices across the nation. Participants of the survey will also have access to a personalized summary report at CASBenchmarkSurvey.com.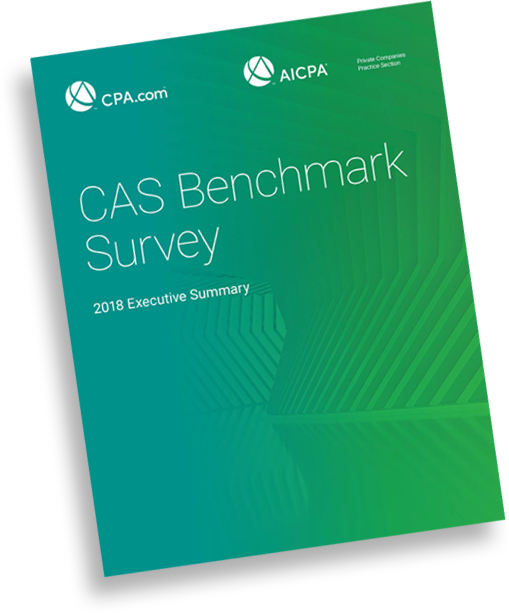 Available here
2020 CAS Benchmark Survey
Executive Summary
Coming Soon
2018 CAS Benchmark Survey
Executive Summary

Building a future ready firm
The accounting landscape is changing rapidly and one word—complexity—defines both the greatest challenge and opportunity for CPAs. To keep pace with client expectations, firms are rethinking their strategies for practice management, client services and talent development.
CPA.com is your primary source for taking the complexity out of moving your firm into the digital arena – enabling you to focus on growing your business with the smartest solutions in our profession.
To learn more about CPA.com, please contact our team at inquire@hq.cpa.com or by calling 1.855.855.5CPA.
Questions? We're here to help