The Internet of Things (IoT) is about to become a major phenomenon, and there are substantial implications for accountants, finance professionals and business in general.
What is IoT? It's any device that can connect to the Internet, be recognized by other devices and communicate data, according to David Bray, a Singularity University faculty member and one of our guest speakers at the 11th Annual AICPA/CPA.com Executive Roundtable held this January in our New York City headquarters. Think Fitbits, Apple Watches, smart TVs and the like.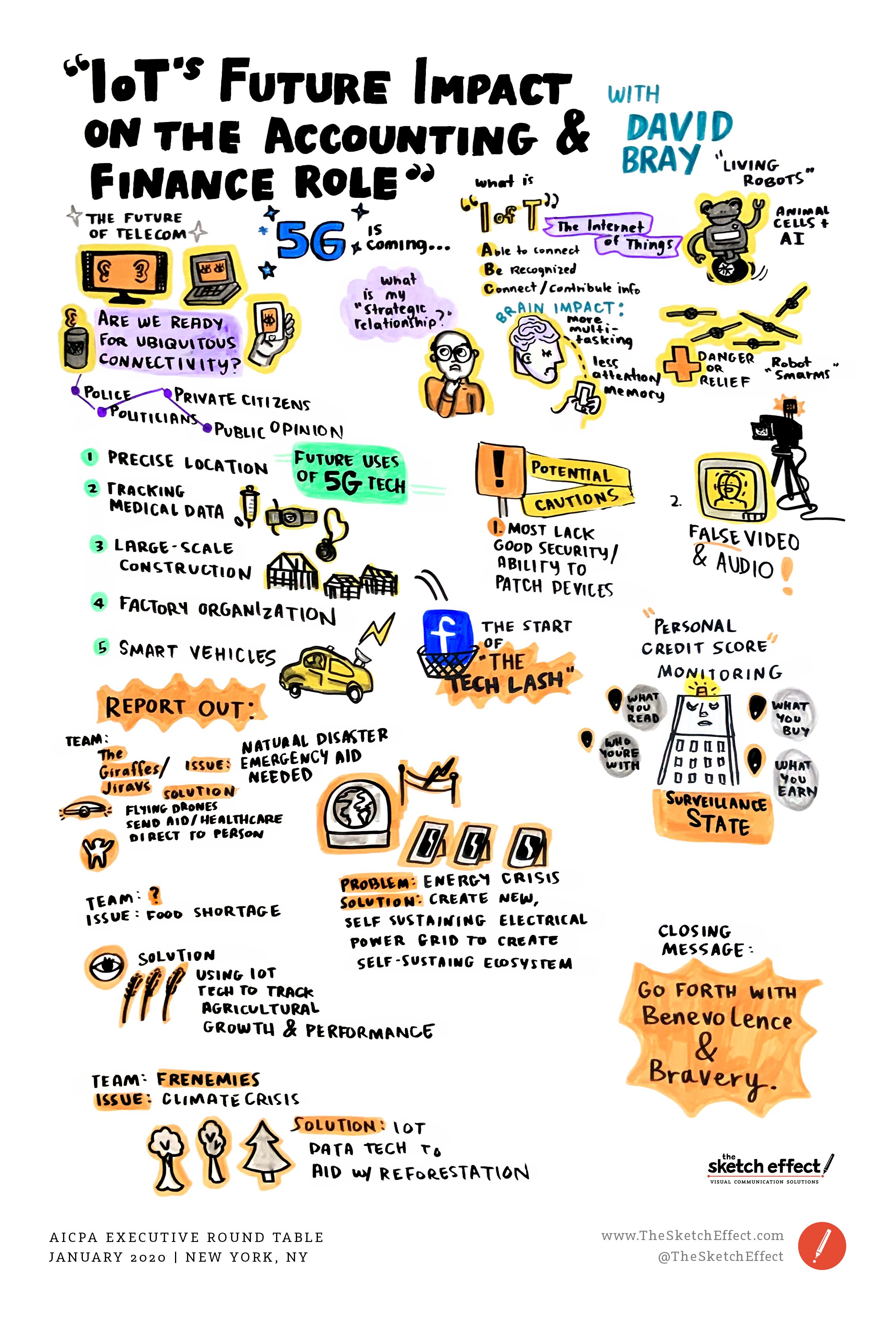 A graphic artist's take on David Bray's Executive Roundtable presentation
There were 7.6 billion people in the world in 2019, and 26 billion Internet-enabled devices, Bray said. Soon enough, we will have 10 IoT devices for every person in the world. One problem: the devices aren't evenly distributed – wealthier countries and individuals have more.
For accounting and finance, IoT can mean a more robust audit and more predictable supply chains. And there are other unexpected wrinkles: Bray said hedge funds are already using satellite imagery of retailers' parking lots to gauge demand from shoppers before the company's quarterly report so they can go short or long on stocks. Similarly, stores already exist that let customers "pay" simply by having their biometric data scanned when they pick up an item and carry it out of the shop.
Of course, there are concerns about privacy and security. What does it mean when virtually everything can be captured on camera, and our movements and consumer choices can be tracked and analyzed through our devices – either by corporations, hackers or, in some cases, governments?
"We've got to have the conversation about how this data is going to be used," Bray said. "Not just to have better data for accounting, but better choices for the society we're going to create."
If you'd like to hear more, check out our LinkedIn Live conversation with Bray from the Roundtable.