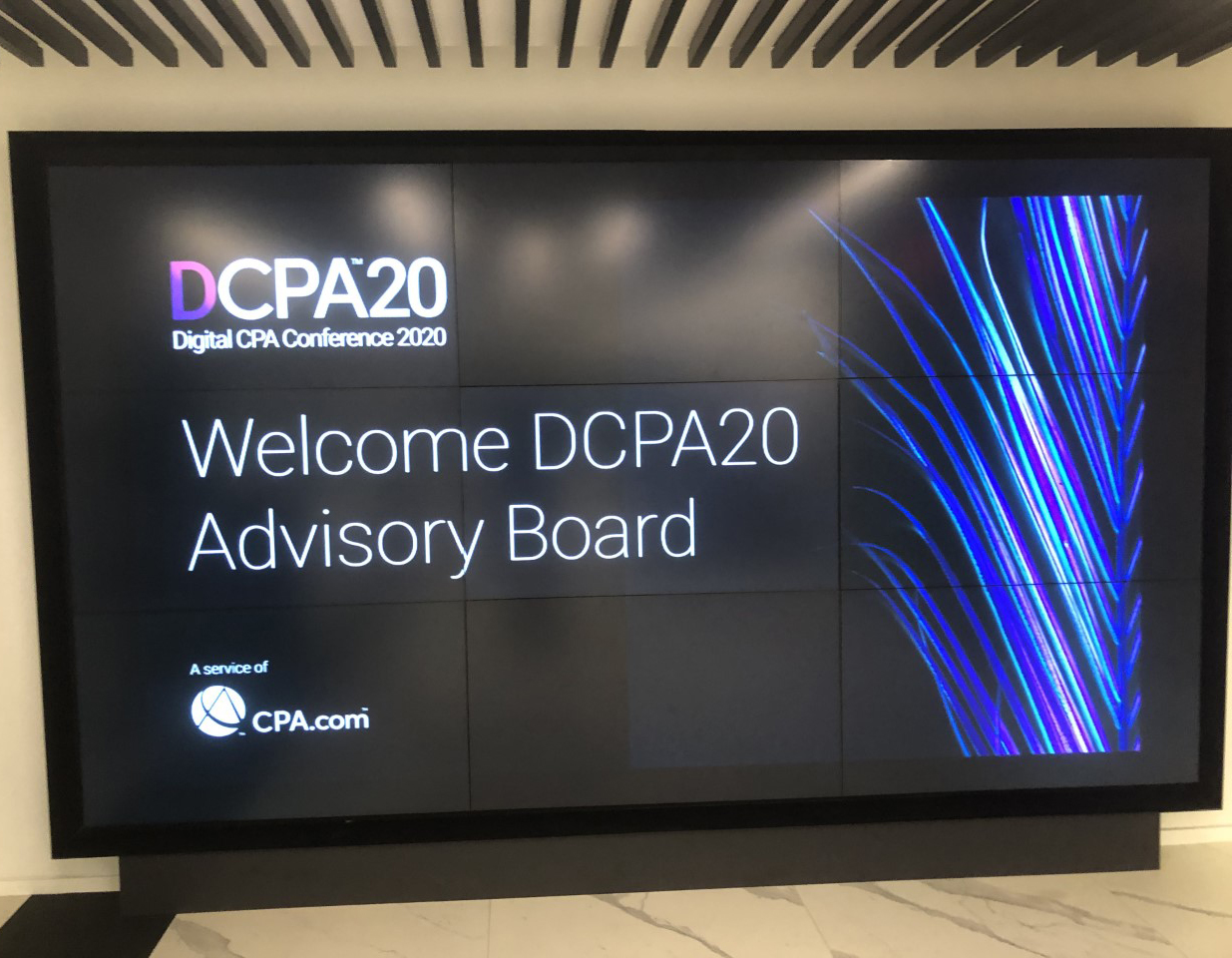 The Digital CPA Conference is always the capstone to our year here at CPA.com. It's perhaps the purest form of what we do to help firms thrive – great content, unmatched networking opportunities and a forward-looking vision of what's possible for the profession. And because it comes in December, it represents a summation of our activities for the year, too.
The work to create Digital CPA starts a lot earlier, though. In fact, we held our first advisory board meeting for the 2020 conference this month and we're proud of the brains, expertise and experience represented on the panel.
One of our new advisory board members is Gabrielle Luoma, founder and CEO of MOD Ventures, who attended Digital CPA for the first time last year.
"Digital CPA was definitely all about the growth mindset," Luoma said, "and how to really help your people move in that direction of innovation in your firm."
Digital CPA's roots lie in the evolution of client accounting services and that will continue to be a strong focus. The 2020 event will also examine the audit of the future, sales and use tax advisory opportunities, and cybersecurity and data security, among other topics.
You can see Luoma talk about Digital CPA and the advisory board's role in this LinkedIn Live session, and also hear MACPA president and CEO, Tom Hood (another advisory board member and a self-professed "Digital CPA groupie") discuss the same topics.
A big thanks to the rest of our Digital CPA advisory board, whose varied perspectives and experience with firms of all sizes help make the conference unique:
Gerard Abbattista, CPA, partner, EisnerAmper LLP
Inga Arendt, CPA, partner, small business services, Wipfli
Michelle Golden, president, Fore LLC
Javier Goldin, managing partner, Goldin Group LLC, and this year's chair of the Digital CPA advisory board
Christopher Heinfeld, CPA, partner, HeinfeldMeech
Natalie Hoffman, CPA, CITP, partner, Honkamp Krueger & Co, P.C.
Kelly Johnson, CPA, national practice leader, business services and outsourcing, BDO USA LLP
Mark Koziel, CPA, CGMA, executive vice president, firm services, Association of International Certified Professional Accountants
Karen Larsen, CPA, partner, Baker Tilly Virchow Krause LLP
Elinor Litwack, CPA, senior manager, outsourced accounting and advisory services, GRF CPAs & Advisors
Dixie McCurley, cofounder and president, Trusted CFO Solutions
Rebecca Pomering, partner and chief practice officer, Moss Adams LLP
Steve Ursillo, Jr., CPA, CITP, partner, assurance & advisory services, Cherry Bekaert LLP
Jennifer Lee Wilson, partner and cofounder, ConvergenceCoaching, LLC
This year's Digital CPA will be held Dec. 6-9 in Orlando, Fla. Visit digitalcpa.com for more updates in the months ahead.