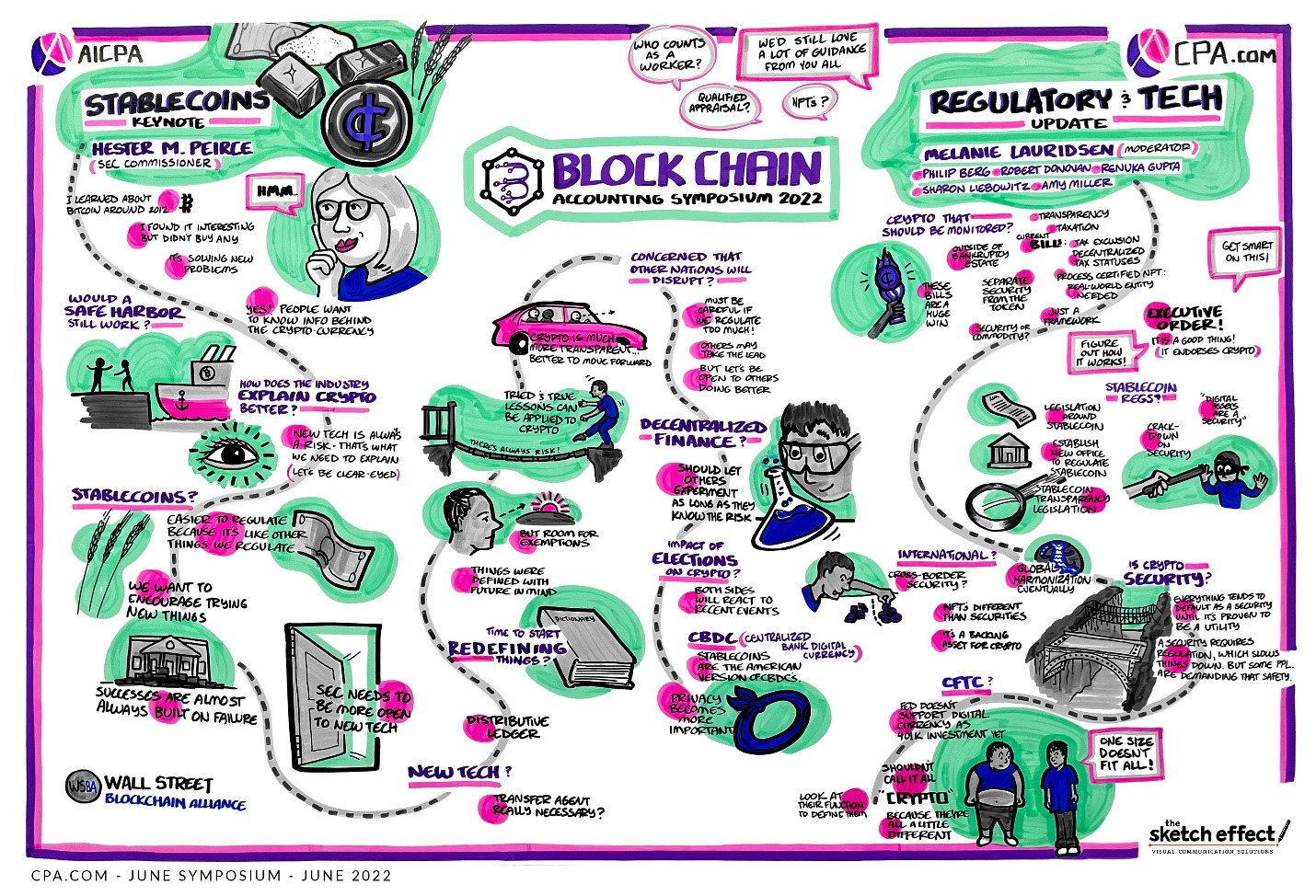 Cryptocurrencies and NFTs (non-fungible tokens) are really cementing their place in global business and commerce. That's why these digital assets were key focus areas at the fifth annual AICPA and CPA.com Blockchain in Accountancy Symposium, held earlier this summer in collaboration with the Wall Street Blockchain Alliance (WSBA). The event brings together thought leaders, regulators, developers and firms that are subject matter experts in blockchain to share updates, offer insights and work through real and potential impacts on the accounting and finance profession.
CPA.com will release a special report later this year that recaps the event. In the meantime, I wanted to share the top four takeaways:
Crypto-winter is here. The cryptocurrency market, like many areas of the economy, has cooled recently. However, this downturn provides a great opportunity to step back – to think about the lessons learned over the past several years and really reassess and reimagine how crypto markets work, how digital assets are assessed and what regulatory discussions are needed moving forward. Progress won't happen overnight – it will be an evolution.
Regulations need room for innovation. With new technologies and cryptocurrencies adding to the complexity of financial markets, it's important for tech companies and regulators to work together to allow space for innovation. This was an area we discussed with SEC Commissioner Hester Peirce, one of the speakers at this year's symposium. We are seeing more activity coming from different regulators and support of conversations around what needs to happen. Regulators recognize the need to be open to allowing room for trial-and-error, because it's through failure that success happens. But to enable this, the tech companies need to provide transparency into the potential value, risks and use cases for new technologies and digital assets to mitigate risks for investors. Having a safe harbor to work together will allow the financial system to evolve.
More guidance is needed. It's not just cryptocurrencies that are gaining a foothold in business. NFTs, unique digital assets that represent real-world objects, are becoming ubiquitous. From art and entertainment to club memberships and virtual time shares to government tracking of homeless communities, the growing usage of NFTs raises new considerations and complexity. For instance, how do you tax gifted or converted currency? How do you value NFTs, when there are currently so many different methodologies? What is the role of auditors? The AICPA advocacy team is calling for guidance on behalf of the profession, and as this regulation and guidance becomes available, the natural progression of firms supporting activities in this space will grow. CPA.com and the Wall Street Blockchain Alliance published an NFT primer that helps accounting professionals dive into this emerging area.
Technology solutions are growing. There continue to be a growing number of technology solutions emerging to help address the challenges that many businesses face related to crypto and digital assets. During the symposium, a few of these emerging tech vendors demonstrated the functionality of their tools in areas such as pricing and valuation. It's evident that these innovative vendors will lead the way for many practitioners in how they support their clients' evolving needs.
Despite the current downturn we're seeing in the crypto markets – which is common in financial markets – there's no slowdown happening in the adoption of digital assets backed by blockchain technologies. In fact, trends show that more and more organizations, financial institutions and government entities are dipping their toes into cryptocurrencies and NFTs – with some foreign governments even using blockchain for identify management and voting. This growth in the number and diversity of use cases is what will drive broad adoption.
Stay tuned for the full 2022 Blockchain Symposium special report that will dive into more detail around each of these areas.
In the meantime, the AICPA, CPA.com and our partners have developed a number of tools and resources to help you stay up-to-date on the latest blockchain-related news, insights and skills you need, including:
2021 Blockchain Symposium Report
AICPA's Blockchain & Digital Assets resource page
Crypto Asset Solutions
Webcast: Demystifying Blockchain & Cryptocurrency
FASB Adds Digital Assets Accounting To Its Technical Agenda | Lukka
Suzanne Morsfield on Valuation of Crypto Assets | Lukka
Identifying Principal Markets for Crypto-Assets | Lukka
Beyond Bitcoin: Challenges to applying a standardized Digital Asset Classification System | Lukka
Beyond Bitcoin, Part 2: Increasing Accessibility Through a Digital Assets Classification System | Lukka