After a recent industry presentation about evolving financial statement services, it was discussed whether workflow and firm portal software had addressed all the key issues and opportunities in engagements. The clear response was, "No."
The other big topic of conversation was how to deliver on the twin mandates at many firms to add value for clients and to innovate through digital transformation. Many people associate transformation with pain and trying to add value to assurance engagements when you're swamped just completing all the engagements, can seem like just wishful thinking.
All is not lost however, and we have some tips to share and a few potential quick wins for CPA-firms:
Improve Accuracy AND Transparency and Efficiency?
For financial statement services (and all assurance for that matter), accuracy is a must, but improved transparency (a clear understanding of the status of work by everyone involved at the appropriate places where they need to be involved) is incredibly important for quality control (which drives accuracy) as well as for efficiency, and even improved client interaction. The three are quite linked and all can benefit from improvements through new process and tools, this year.
Two newer tools from CPA.com are examples of innovation which offer immediate CPA firm gains in these areas for preparation, compilation and review engagements, including ways to:
Improve accuracy and efficiency around compliance with new and changing standards.
Create integrated transparency into collaboration efforts, both internally and with clients.
Create safeguards against overworking engagements (and all the additional risk and other things that come with that bad habit).
Infuse more transparency, efficiency and value into the review (or audit) report issuance process (and finally wrangle the withdrawal/restatement headache)!
Quick Wins
In looking at typical challenges firms have around attestation and assurance services, there are a few quick wins that you can potentially achieve through technology. For instance, would any of these questions be worth asking about your firm?
How do you reduce the chances of missing anything on an engagement?
How do you help prevent overworking an engagement?
How do you add transparency from engagement wrap-up to delivery on reports?
What can you do to truly differentiate your firm as it relates to report delivery and distribution?
Firms who have adopted OnPoint PCR for preparation, compilation and review work for example, have seen a real difference in the process they go through to ensure compliance with quality standards. A significant difference maker within OnPoint PCR comes in its use of intelligent guidance. For instance, once you've selected "Preparation," "Compilation" or "Review," as the engagement type, the solution adds or removes entry fields to ensure that questions and procedures adhere to that engagement type (and related standards for that engagement type). That intelligent guidance carries over into intelligent letter drafting, as it uses your responses to questions and procedures to generate the engagement letter and representation letter using the appropriate language.
As for transparency from wrap-up to delivery, many firms struggle a bit with controls over the process. The secure, source-validating RIVIO Clearinghouse is an example of a tool that brings efficiency and control to some of the often-chaotic back and forth between wrap up and delivery to the client.
Ideally, you want to move away from a process that might look like this: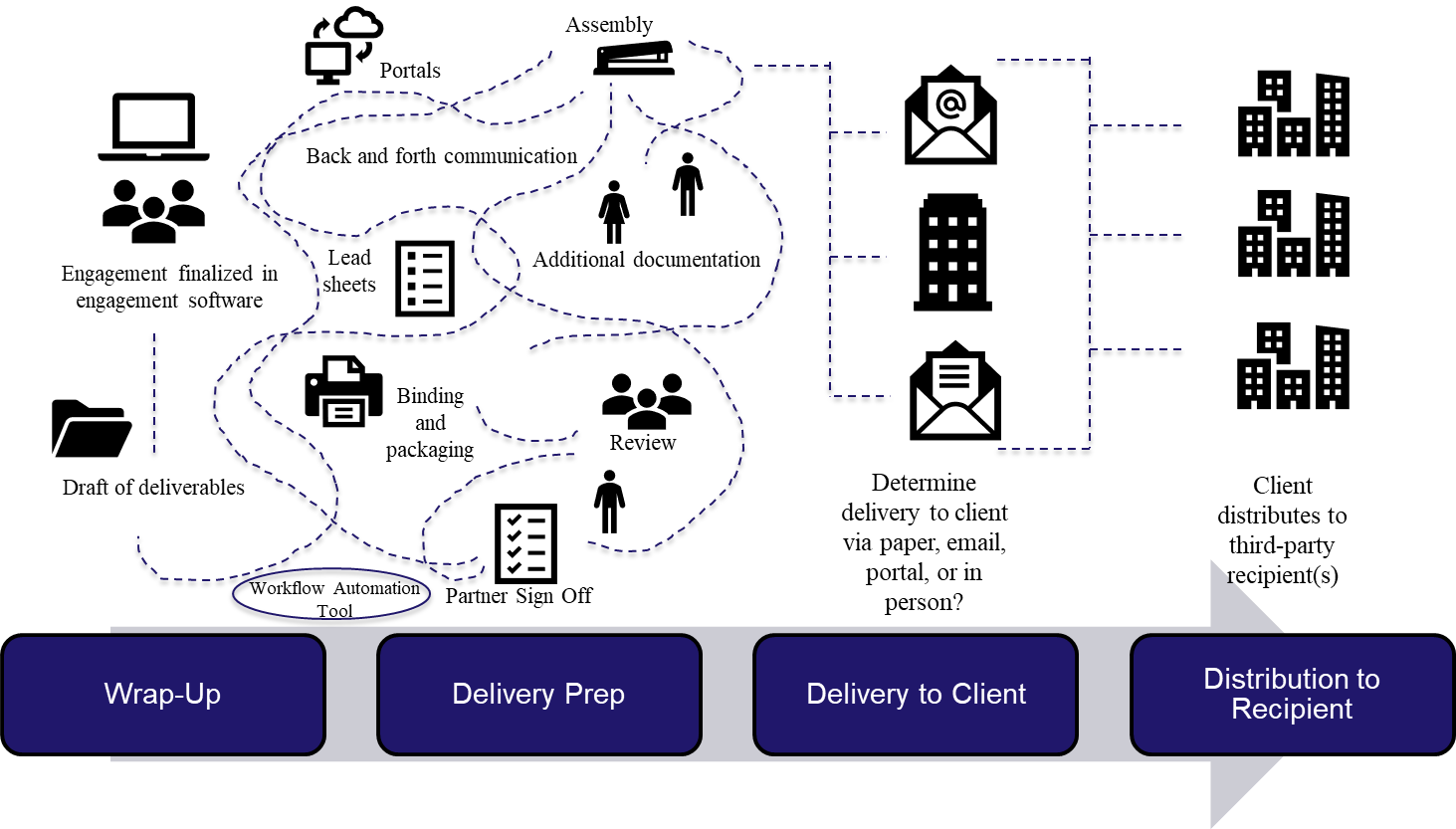 Further, firms can leverage this same technology to evolve their delivery process beyond just a portal, similar to how moving from paper to fax to emailed PDFs has had a notable impact to the profession. We are talking about true innovation of the report and document delivery process here; something that goes above and beyond for your clients to differentiate your services and truly add value beyond delivery of the review or audit report.
So how do you get beyond using a portal for delivery? Well, portals don't allow your clients to automate much on their end. They still have to find a way to take what you have delivered, get it to lenders, shareholders, etc. (who are very interested third-parties), and then keep track of who all has a copy in the first place. RIVIO enables you to securely deliver reports and documents in a way that gives your clients powerful distribution management and controls. They can easily distribute to anyone they want. And best of all – if you ever find yourself in the position of having to withdraw and reissue a report, RIVIO provides an elegant, controlled solution to update reports immediately – straight from your firm to recipients (but without you even knowing with whom your client shared the report). A key takeaway here could simply be to think through how your clients currently manage requests for copies of financial documentation that your firm has prepared. It may be worth asking clients that question if you don't already.
Hopefully, you've got some new things to think about and some options to make progress sooner than later. As stated earlier, a quick win on achieving a corporate (or personal) innovation goal is always a good thing these days, especially if it adds value for clients and improves accuracy, transparency, and efficiency.
About the Author:
Steven A. Menges
RIVIO Clearinghouse Product Lead, CPA.com
A business-to-business (B2B) innovator and products executive with 20 years' progressive experience, Steven Menges is a frequent industry author and speaker on enterprise computing, data analytics, managed service providers (MSPs), IT Security, regulatory compliance, EdTech, and buyer's journey-based engagement. Mr. Menges is also an Adjunct Instructor and Capstone/Thesis advisor at the NYU MS in Management and Systems (STEM) and MS in Integrated Marketing programs and is the co-developer of the Business-to-Business Marketing Maturity Model.