If you paid any attention to the hype surrounding the initial release of OpenAI's ChatGPT last November – and then the ChatGPT-4 model release more recently, you already know why this emerging tech is creating quite a stir. The ability of generative AI (or GenAI) platforms to answer questions, perform tasks, generate content and "converse" with human users gives a lot of people the uncanny feeling that the stuff of futuristic science fiction is suddenly at hand.
What is generative AI?
According to IBM, generative AI refers to deep-learning models that can generate high-quality text, images and other content based on the data they were trained on. ChatGPT is only one of thousands of generative AI models that exist today, but it is the fastest growing.
For many, this is a moment that is as compelling as it is alarming. Those in the accounting profession took special note of the fact that in the March 2023 launch of the latest version of ChatGPT, OpenAI showed off the application's ability to calculate a fictional user's tax return.
Beyond hype
As a result of these fast-moving developments, we updated the 2023 CPA.com Technology Hype Cycle, which tracks the trajectory of emerging technologies from their initial innovation trigger through maturity.
Technologies move between these different phases based on technological advancements and practical applications. While digital assets regressed in maturity from 2022 to 2023, GenAI has begun to show its true use cases and value, moving into the beginning phase of the Slope of Enlightenment.
All technologies move between the phases at different pace, but the rapid advancement of LLMs (Large Language Models) displays the belief that generative AI tools such as ChatGPT have already reached the point where the profession can start to see more realistic expectations about what the tools can – and cannot – do and how to use them.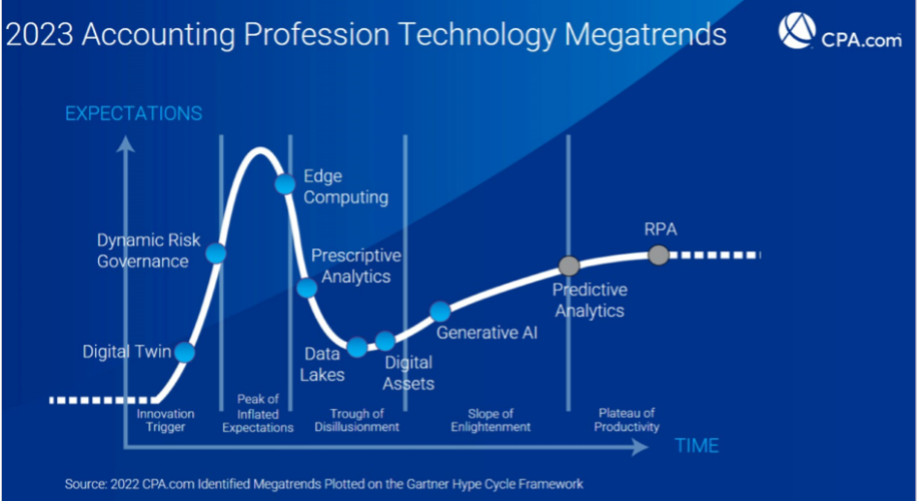 What now?
How will ChatGPT and similar tools affect the accounting profession in the near term? And how "near" are these changes? These are exactly the types of questions addressed in a recent AICPA Town Hall discussion, "ChatGPT and the role of accounting & finance," featuring Jason Staats, CPA, founder of Realize, and a leading expert on AI and technology within the accounting profession. As Staats says in the segment, a number of companies that provide widely used solutions and applications to the profession are already building some generative AI-based features into their offerings. These changes are happening today and are only expected to expand in coming months and years.
While it's difficult to predict all aspects of the profession that are likely to be impacted, Staats points to three areas that top the list:
Accounting ledgers - Increasingly automated classification that adds important context, including invoices, receipts, and even email confirmations – a new level of intelligence beyond today's rules-based approaches.
Practice management software - Vastly improved search, including ability to search email, team chats, meeting transcriptions and even files contained in file storage systems.
Generative email - Automatically generated drafts of email replies to clients and other stakeholders that account for situational context, reducing the time and effort required for creating and sending routine communications.

Just getting started
How will generative AI tools like ChatGPT affect the accounting profession? CPA.com recently announced a multi-part generative AI initiative examining the technology's impact today and anticipating what's next, through a mixture of research and ongoing conversations with firm leaders and solution providers. Stay tuned for more updates from CPA.com as we navigate what's ahead, including a follow up Town Hall segment, webinar, release of resources including a toolkit for practitioners to get started and a keynote with an experiential exercise for attendees at Digital CPA 2023.